Early life 1903 - 1918
Alan Stewart Paton was born on the 11th January 1903, in Pietermaritzburg, situated in the then British colony of Natal. Natal was one of four British territories that were united in 1910, and thereafter known as the Union of South Africa.
Alan Paton loved the town of his birth. He opens his autobiography with the line "Piermaritzburg, the lovely city". He was once queried as to whether his penchant for Pietermaritzburg was not a case of 'beauty is in the eye of the beholder'. He replied "My beauty was already created, in that place where I was born". His naivity of the dark tale which shaped Pietermaritzburg..battles lost and won, hatred between races and the displacement of persons...was absolute as a child growing up.
Alan Paton was the eldest of four children, Athel, Dorrie and Ailsa and were his brother and two sisters. His parents were James Paton, and Eunice Warder James. Paton's father was a shorthand writer in the Supreme Court in Pietermaritzburg, and had arrived in South Africa in 1901, the time of the Anglo-Boer war and worked at his career until his pension in 1928. His mother was the daughter of Thomas Warder James, who emigrated to South Africa around 1850. He became the senior clerk at a firm of wagon makers in Pietermaritzburg. She was a schoolteacher, and no doubt had some influence over the young Paton's decision to become a teacher himself.
On the religious front, something which would dominate Paton's life, internally if not externally, his father, a fervent Christadelphian instilled in his family a sense of absolute right and wrong. He was also quick to admonish any deviation from his particular point of view. The result was a household who often lived in fear of doing something wrong.
Paton was by all accounts, exceptionally bright. When Paton was six, he attended the then Berg Street Girl's School in 1909 near his early home at 19 Pine Street, where he and his family lived from 1903 to 1914. His mother had already instructed him in all the basics of reading, writing and arithmetic, and thus he was way ahead of most of his classmates. He was in Sub A for only two weeks and then sent to Sub B for another few weeks. He was still found to be above average and was promptly moved to Standard One, and despite being much younger than all his classmates, managed to come top of that class. Thereafter he would always be younger and smaller than his classmates, and as such endured much bullying during his school life.
He describes a moment in his life in the short story "The Gift" in Knocking on the door. His mother sent some scones and hot cocoa with a young black servant to his school for his lunch. This incident was noticed by the older boys, and Paton was so embarrassed that he denied any knowledge of the young black man, and certainly denied that the food had been sent by his mother. It appears that this had a lasting effect on him, and it was forty years later when he was able to exorcise this demon by writing it down.
Maritzburg College 1914 - 1918
In 1914, he and his family moved to 551 Bulwer Street, now known as 16 Echo Street. This was a larger house and situated across town from their previous home. His father bought the property for 850 pounds. It had a large garden which included an orchard of fruit trees and opened out into the countryside. From here, Alan and his brothers cycled to Maritzburg College, riding through Alexander Park.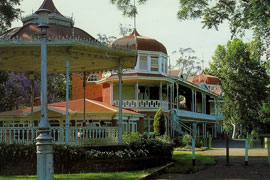 The house is still there but the tress and garden have gone. It now houses Jika Joe's taxi and bus depot.
Paton was 11 years old when he started at Maritzburg College, and he remained there during the First World war years. He matriculated with distinction in 1918. He took home the school prizes for English, Mathematics and History, and came second in Science to the boy, two years his senior, whos edged him out as Dux.
He had always wanted to become a doctor, but his father declined to fund his studies in this field. Thus, like so many students, he took advantage of a Natal Education Departmrnt bursary for the training of teachers and started at Natal University College, opting much to everyone's surprise to go for a Science degree with Mathematics as his major.
He writes in his autobiography "The department particularly wanted science and mathematics teachers. It was this that finally decided me to give up the arts."
"The small toy train climbs up on its narrow gauge from the Umzimkulu valley into the hills. It climbs up to Carisbrooke, and when it stops there, you may get out for a moment and look down on the valley from which you have come ..."

"It is interesting to wait for the train at Carisbrooke, while it climbs out of the great valley. Those who know can tell you with each whistle where it is, at what road, what farm, what river. But though Stephen Kumalo has been there a full hour before he need, he does not listen to these things. This is a long way to go, and a lot of money to pay." From: Cry The Beloved Country

by H Hansen

 

The train at Carisbrook - the beautiful scenery of the areas in young Paton's life are vividly portrayed in 'Cry, The Beloved Country'

Alan Paton teaching a child in front of a church in Natal. He was 46 years old.
Photograph by Constance Stuart Larrabee, February 1949.

This photograph was taken in February 1949, when Larrabee was on assignment for Harper's Bazaar. Her objective was to create a portfolio inspired by Paton's seminal book Cry, The Beloved Country, which brought the conditions in South Africa to the attention of the world. The novel was published in 1948, with apartheid becoming law later that year.